Post by The Circle Television Network on Sept 2, 2018 4:28:47 GMT -5
COOL KIDS
THE CLEAR CONNECTION




WRESTLER INFORMATION


Name: Roxy Cotton

Hometown: Malibu, CA

Weight: 120 lbs

Height: 5'7"

Wrestling Style: Hardcore/Rule Breaker


WRESTLER INFORMATION


Name: Mackenzie Michaela Grey-Lacklan



Hometown: Hollywood, CA


Weight: 136 lbs


Height: 5'2"


Wrestling Style: Move Thief

COMMON MOVES

Hair Mare

Handspring Elbow

Guillotine Leg Drop

Spinning Heel Kick

Leg Lariat

Rocker Dropper

Code of Silence

Shining Wizard

Frankensteiner

Sleeper Drop

Hip Attack

Dragonscrew

Backflip Dropkick

Somersault Knee Drop

Moonsault

Molly-Go-Round

Flying V Trigger

Meteora

Rings of Saturn

SIGNATURE MOVESKitty Buster

(Bronco Buster)

Wet Dream

(Figure-4 Headlock)

Muff Diver

(Hairpull Facebuster)

Camel Toe Clutch

(Assisted Camel Clutch)

FINISHING MOVESDouble-D DT

(Impaler DDT)

DTF

(STF)


TEAM INFORMATION

Combined Weight: 256 lbs
Theme Song: "Connection" by Elastica




RING ENTRANCE


"Connection" by Elastica plays as the sub-group of the #CoolKids known as "The Clear Connection" of Roxy Cotton and Kenzi Grey emerge through the entranceway, accompanied by their bodyguard, the massive Maxine. The two bounce around one another all the way down the ramp as the irreverent techno tune blasts throughout the arena. The duo pause outside at ringside, then roll into the ring together as they ascend the turnbuckles at opposite sides of the ring, eliciting both boos and cheers from the rabid fans as Maxine takes her place at ringside.

(Roxy will assume the cheers are for her and will find new ways to console Kenzi for the fans booing her.)



TAG TEAM DYNAMICS

Roxy and Kenzi have a complicated working relationship, as Roxy breaks all the rules and Kenzi is constantly trying her best to do the right thing. Roxy will frequently use her massive bodyguard Maxine or even Kenzi's own mother to do her dirty work or distract Kenzi while she takes matters into her own hands...for the good of the Clear Connection.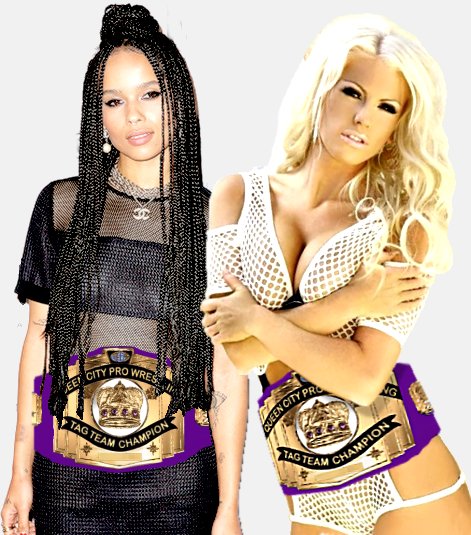 TAG TEAM MOVES

Double Running Bulldog
Irish Whip Into Charging Clothesline
Stalling Double Brainbuster
Shotgun Kick into German Suplex
Rocket Launcher Splash
Tandem Neckbreaker
Legsweep Superkick Combination


TRADEMARK MOVES

SNAP OR TAP
(Code of Silence|Sharp Shooter)

Kenzi applies the Sharp Shooter to a downed opponent as Roxy runs in to apply the entirely redundant Code of Silence to the already helpless opponent out of the sight of the referee in a standard match or blatantly in a no holds barred match.


KICK THE CAT
(Shotgun Dropkick | Bronco Buster)

Kenzi sends their opponent crashing into the corner with a running front dropkick as Roxy finishes them off with her "Kitty Buster" as they are down and stunned in the corner.


CRUISE CONTROL
(Wheelbarrow | Code Breaker)

Roxy lifts an opponent by their legs in wheelbarrow position as Kenzi runs in and connects with a "Breakout Performance" Code Breaker.



FINISHERS

OT DDT
(Wheelbarrow | Impaler DDT)
Kenzi puts an opponent into wheelbarrow position as Roxy hooks their head and then spikes them into the mat with a high angle "Double-D DT" impaler DDT.




FLAT EARTH THEORY
(Rocker Dropper | Curb Stomp)
Roxy plants an opponent with a rocker dropper and rolls away as Kenzi runs in and smashes their face into the mat again with a "Walk of Fame" curb stomp.